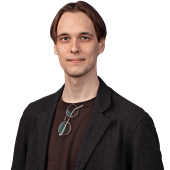 Simon Sundin
Developer
Simon, who joined Prototyp as a developer in early 2022, found his way to the team via Prototypers who attended the same program at KTH (Media Technology). He loves the teamwork, broad competence and in-house product development found at Prototyp; an approach that Simon believes makes the end product better. He is currently learning TypeScript for future ReactNative projects.
Simon's super powers are his energy, curiosity and lust for intrapreneurship. He is a quick learner who likes to bounce ideas with others, and is not afraid of choosing more unexplored paths in projects.
Simon is a huge fan of the intersection between tech and art. He is fascinated by the mix of physical and virtual worlds in AR, and has created 3D animated music videos for Swedish artists. Simon is also inspired by Quentin Tarantino's playfulness, creativity and insatiable love of film.